So I'm NOT the biggest fan of Valentine's Day. I've never been and this is nothing new to those who know me. I don't really have any particular reason. It's just something that my husband and I (even when we were boyfriend/girlfriend) never made a big deal out of. Well, actually that's a lie--I take that back. I think that in our first year of dating (while we were in college), I made him a heart-shaped pillow. I even hand sewed it and stuffed it with cotton. That took a lot of dedication and hardwork. LOL.
Anyway, although I'm not a big celebrator of Valentine's Day I know that some of my readers/followers may be. With that being said I wanted to draw your attention to my friend's coffee company.
Remember this post about the company a while back?
Well
BeanFruit Coffee Company
has partnered up with the
Peru Paper
for Valentine's Day. There is a deal where you can send that special someone a bag of organic Peruvian coffee and a handmade greeting card made in Peru.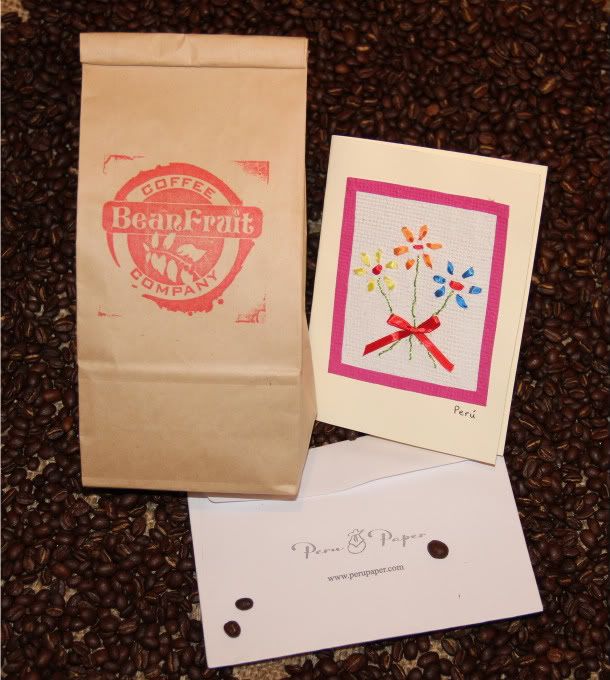 Guess who took this picture with her handy dandy digital SLR?
Briefly, BeanFruit Coffee Company purchases coffee beans from different farms located in countries such as Ethiopia, Peru, Brazil, El Salvador, Nicaragua, Costa Rica. One of the many passions of the owner of the company is coffee, so he started his own company. It's amazing how much this guy and his wife knows about coffee. Anyway, besides being great neighbors they are good people in general. A portion of the money they make support a local charity and an international one.
The Peru Paper Company is also awesome. The owner is local. The handmade greeting cards are made by women living in Peru (from recycled materials). This company allows some of Peruvian women to be able to work from home and still be able to help provide for their families. I am doing it no justice trying to explain--just check it out for yourself. By the way, interestingly some of the award shows such as the Emmys has used cards from the Peru Paper company. Isn't that neat? Some famous people who has her handmade cards include: Sandra Bullock, Tracy Morgan, Natalie Portman, Morgan Freeman.
These two companies are very impressive. What a great Valentine's Day gift. Not only are you giving something unique, beautiful, and useful to your significant other. Your gift to that special someone is also blessing others miles away. Although hubby and I don't really celebrate Valentine's Day or drink coffee I plan to purchase a package for support. Also although we don't drink coffee I'm thinking about using it to make a coffee dessert. Mmmm....
Please visit both sites to get more information. Here is a direct link to the
special package
. Enjoy your Valentine's Day!
...but TRY to be sweet to your spouse everyday
. LOL ;-)
Mrs. K