Remember that Halloween party I mentioned about in a previous post. Well I had a blast. Almost everyone wore a costume. One of my fellow co-workers had it at her beautiful home. I called her the Pakistani Martha Stewart. She decorated so well and the food she cooked was awesome. It was potluck so everyone brought food but I must confess that the host's food was by far the best. It was even better than my food.
I made fried sweet plantains. I made two types: salty and cinnamon sugary. They were OK. The best was the meatball biryani, no the lamb kabab, no the thai chicken. I can't decide. My co-workers and I are a diverse group and I loved tasting everyone's food. The punch was great too and was accessorized with gummy worms. Yum!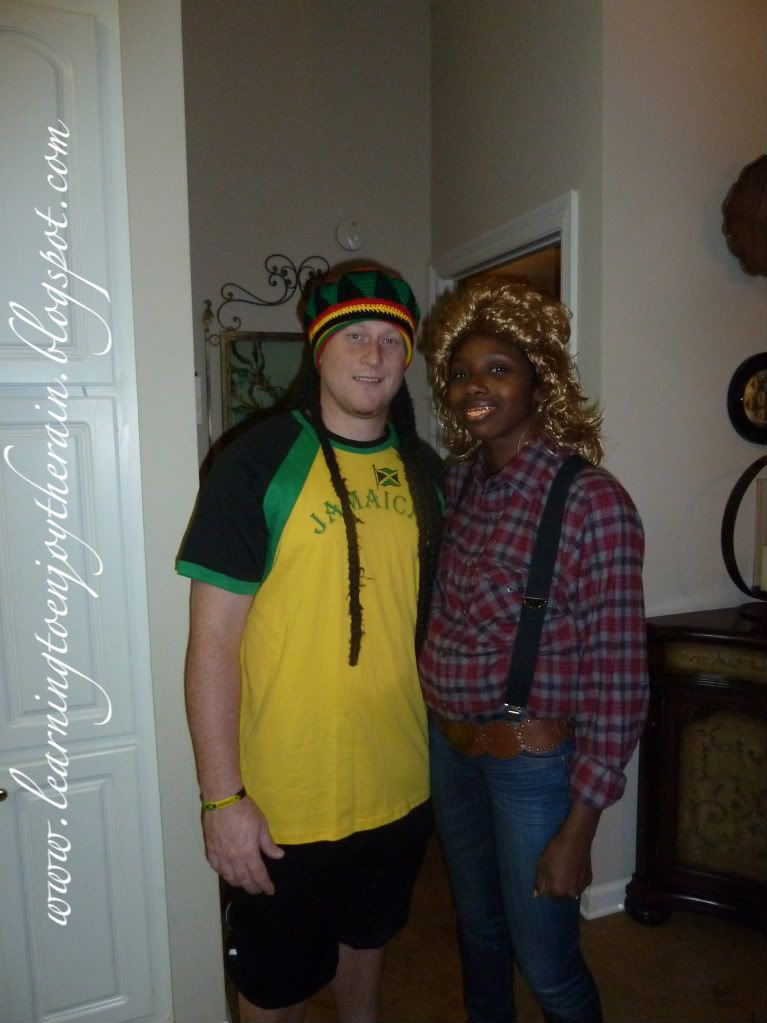 Halloween 2010
So for the costume. I told you guys before that I did not want to spend too much money on a costume so I pieced a bunch of stuff together. I came up with the idea that my husband and I should switch roles. My husband was dressed as a Jamaican Rasta (with dreads and all and a fake blunt made out of a brown lunch paper bag). I was dressed as a Redneck. I guess we were dressed as the exaggerated/stereotypic version of each other.
I had a mullet wig, plaid shirt, billy bob teeth and some extra padding (I wrapped some bed sheets around my entire abdomen so I could look like I had some belly fat). With all this garb, my colleagues did not recognize me.
My outfit was definitely not attractive (actually it was hideous) but it was funny and cheap. It was definitely unique compared to the other costumes that were witches, devils, hippies, etc. What was confusing to me and others is whether I was a man or a woman. I just told them that I was confused. So much for a sexy Halloween costume-- maybe next year!

One holiday down, two to go!