Yesterday we took our family photos for our Christmas cards and they came out well. Last year this is what the process looked like (note the progression):
K family 2009 Christmas Series:
Took a picture of Sampson just for fun because he was looking so spiffy in his Christmas bow-tie (that I made). Sampson was probably thinking: "Boy this is going to be a long night." And he was so right.





Take 1: Trying to get situated in front of the fireplace. Ok, maybe it's tough because it's the first take (at least that's what we were hoping)






Take 2: Maybe grabbing Gideon's (our not so smart Great Dane) back leg will help. Aside: Please excuse Gideon's unneutered male parts. He was still too young to get it done at the time. He's neutered now.







Take 3: Ok so now Gideon decides to not run away but faces away from the camera trying to nibble on Sampson. Sampson obviously is not enjoying the attention and is trying to hide.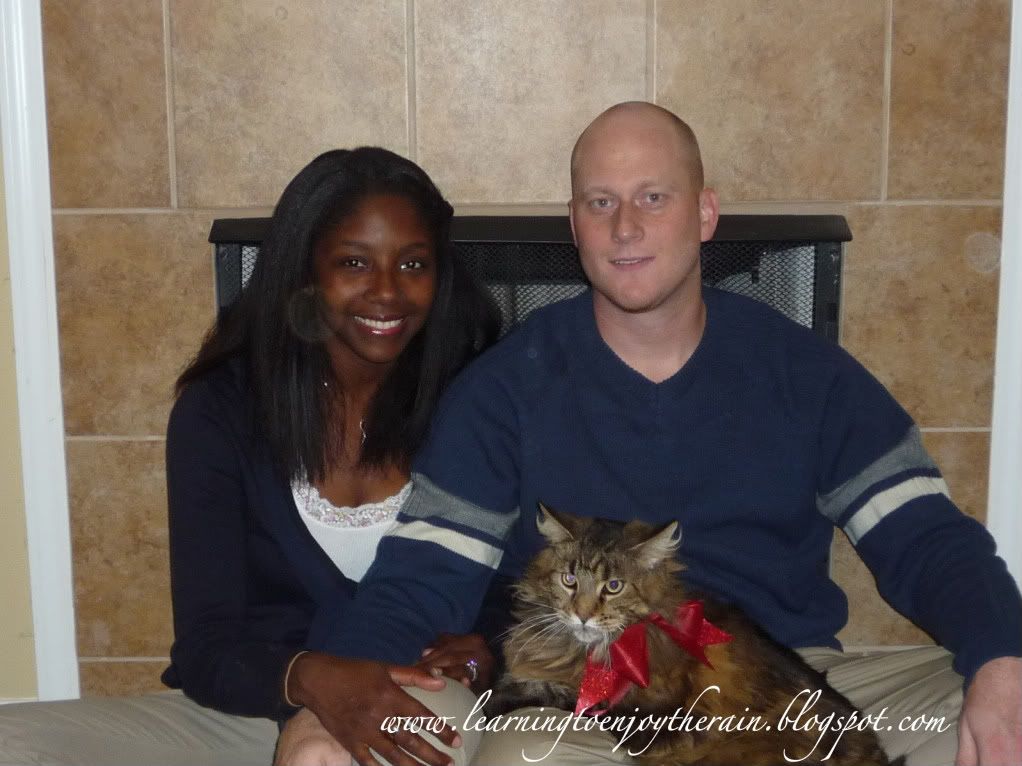 Take 4: Fine! Gid doesn't have to be in the family picture, we don't care. Ok, I'm kidding yes we do.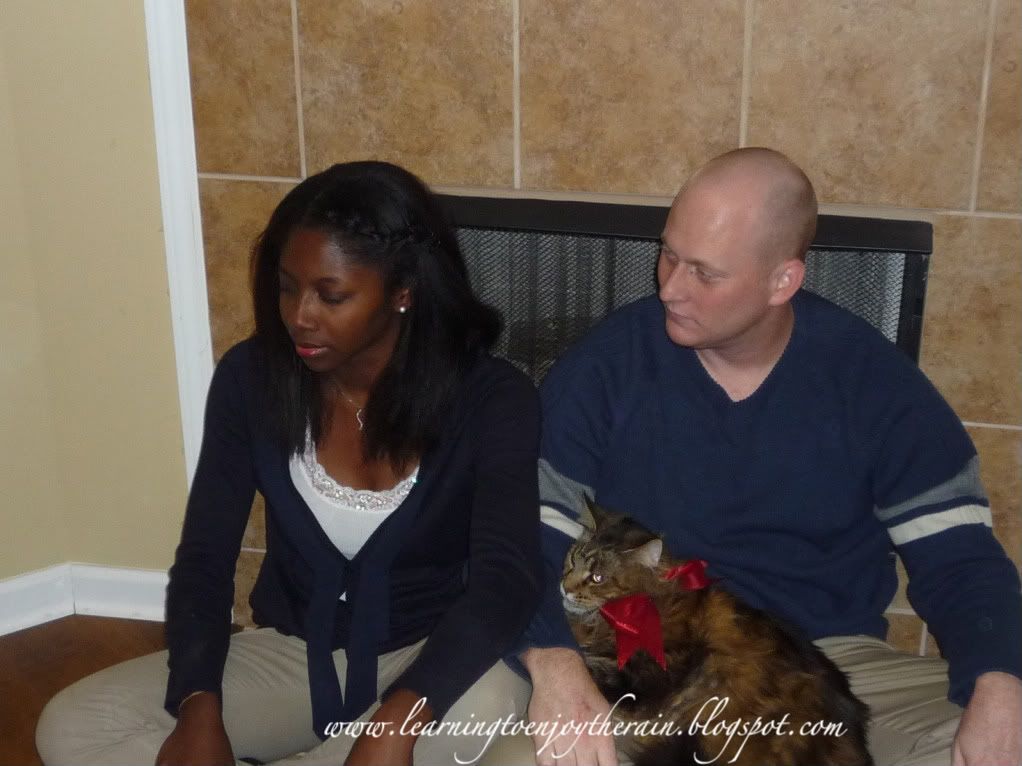 Take 5: Sampson and I showing our mad face. My hubby being his usual patient self. We were all thinking: "Gideon get your butt over here, I can't stand all this sweating anymore."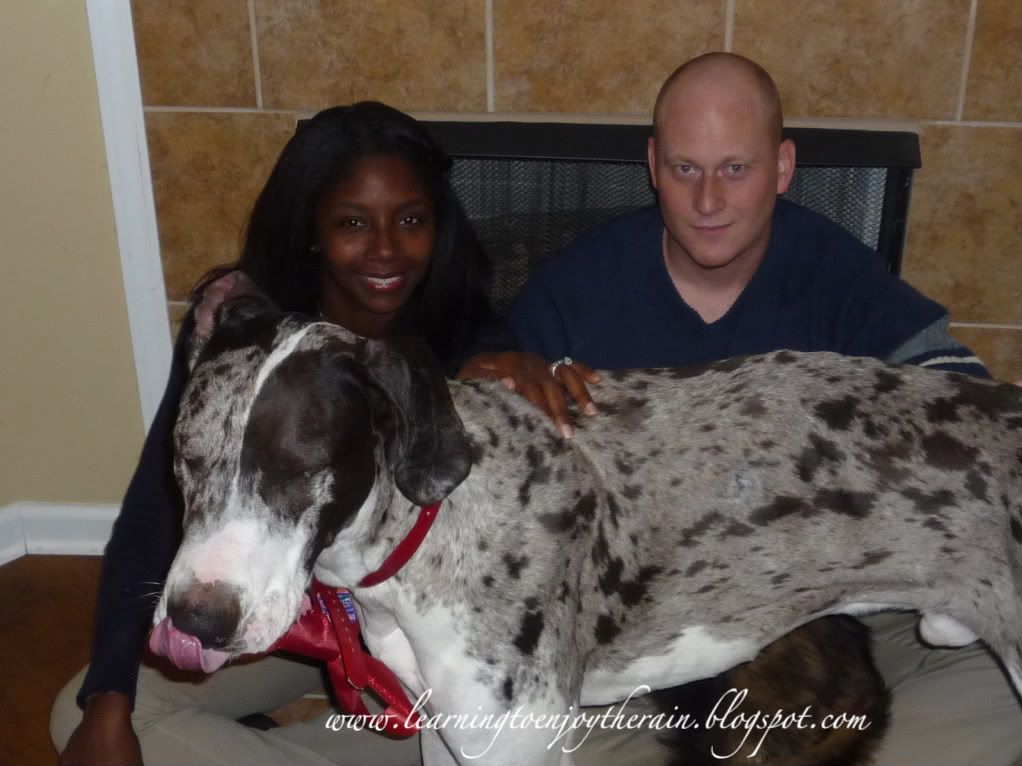 Take 6: Wow, can we catch a break please. Really? Tongue sticking out? By this time hubby and I have fixed fake smiles just in case we capture a good picture. By the way, where's Sampson.
Take 1 million: Ok we are getting closer. Gideon's now cooperating but his ear is all funky looking inverted.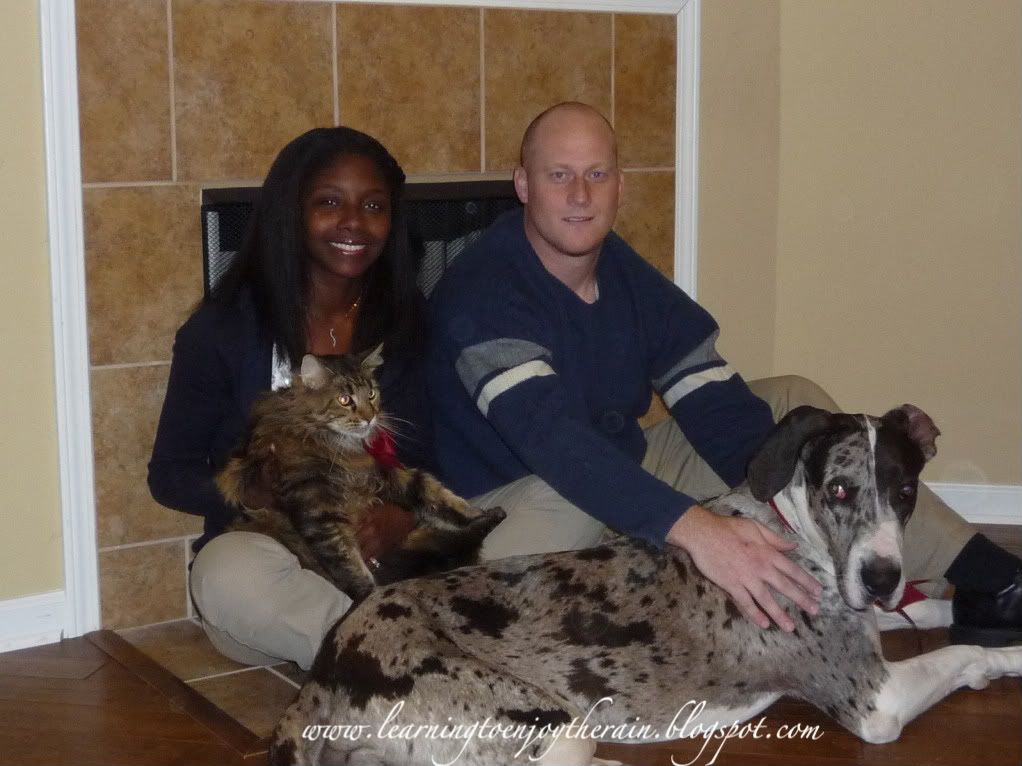 Take 1 million and 1: Almost there...
Take 1 million and 2: Yay! We did it. All of us thinking: let's not do this again next year.

This is the picture we used for a Christmas cards last year.






This year it took less time (even with a new addition to the family--Eliza). Our neighbor, Paul, owner of
Bean Fruit Coffee Company
helped us out. He was so patient throughout the whole process but I think he had a good time taking the photos. It may have been my husband and I bickering
or
the cat digging into my husband's leg while he was trying not to scream like a girl
or
each of the red balls (ornament) falling off the dogs' neck because they were romping
or
the disgusted look in our eyes at the dogs for not cooperating. lol.
Whatever it was, our neighbor had a good laugh while the hubby and I were sweating bullets trying to get the whole thing figured out. I don't know why we do this to ourselves. It's like we are gluttons for torture. We both agreed that we can't wait to have kids so that they can be in the family picture. We may just put individual pet photos on there when we have a kiddo.
Anyway, I will post the 2010 photos in a few days. If you plan to take family photos this year hopefully your session was less eventful.