So far I've gone to 3 Christmas parties. Woohoo! Last year we went to 4 (and I think that's the record...so far). These are not including family gatherings. I enjoy going to these parties. Here are some things I like about them:
1) Getting dressed up fancy. On a daily basis I wear what I call "work clothes" which is usually isn't anything fun or fancy. When I'm not in "work clothes" I'm either in "house clothes," "workout clothes," "night clothes," or "going out clothes." I know these labels may seem strange to you. Don't worry you are not alone, my husband finds them strange too and he laughs at me whenever I say anyone of them. Anyway, these parties give me an opportunity to parade around in a nice dress, heels and fancy (but inexpensive) jewelry and not look too crazy.
2) Putting on make up (ie. mascara and lipstick). I wear lip gloss all the time but not lipstick. I feel the make up completes the outfit although it is kept at a minimum.
3) Seeing my husband dressed up. I've mentioned before that my honey is a basketball shorts wearing down-to-earth kind of guy. Although I think he looks great everyday, whenever he dresses up in a suit he looks amazing.
4) Socializing. Yes, I am social butterfly. Well in a way I am. You see at my husband's work functions, I wont initiate a conversation with someone I don't know. But if they come up to me and start talking--it's on. Although if it's someone I know, I have no problem going up to them first. I also like meeting the people that my husband comes home and talk to me about from work.
5) Watching co-workers/professionals get tipsy and start talking/behaving without inhibitions. Yes, it's pretty fun watching this, especially when they start dancing. It's a sight to see. From a sober person's point of view it's hilarious!
6) Eating the food. I am not ashamed to say it. I look forward to the food and I love the diversity of food offered. Except for the party for my department, the food at the other 2 parties were awesome.
7) The smiles and the laughter. I like seeing people from all walks of life fellowshipping and having a great time.
8) Cutting a rug on the dance floor. My husband doesn't like to dance as much as I do although he is a good dancer but he has learned over the years to just go with it. He usually is prepared to be on the dance floor with me most of the night. I love it all from the "soul train line" to the "cupid shuffle." I also like to watch others try to dance.
Anyway, these are just a few things that I like about parties that make this time of year more fun. Hear are some pictures of my husband and I at his department's Christmas party this past weekend. We both had a great time but had to go home a little earlier than normal because he had to work the next day.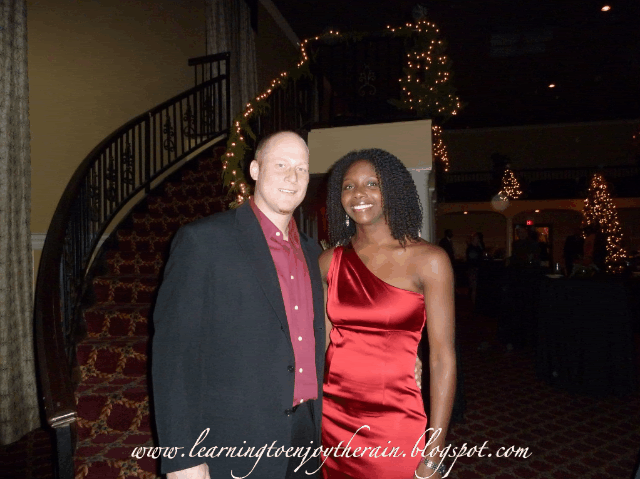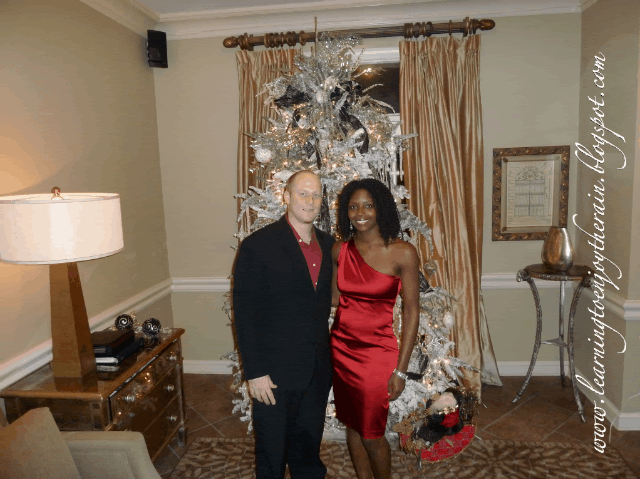 I wanted to show the coat I wore over the dress. It was a cold night.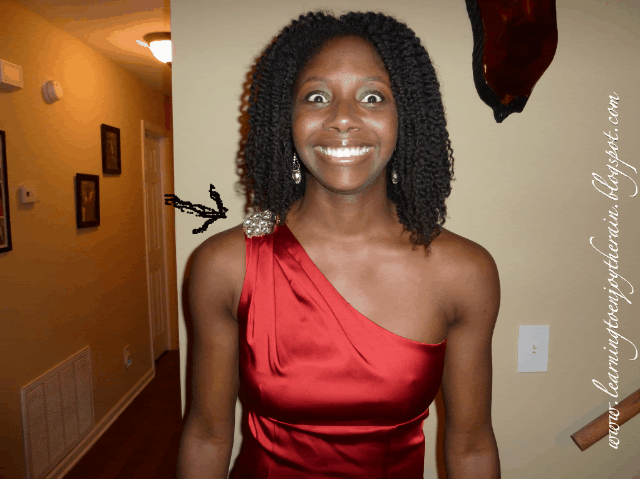 Ok, I know I look like a "mad 'oman" (Jamaican patois for crazy woman) but I posted this picture for 2 reasons: 1) I wanted to show the pin (see my bootleg arrow) not seen in previous pics. 2) To make you laugh since I'm a goofball--hubby and I were being silly when we took this picture. I hope the big eyeballs didn't scare you too much. LOL!
By the way thanks for all the thoughtful comments left on my last post. I appreciate them all. Also, I will be posting my 2010 Christmas card in a few days--I'm too lazy to do it right now. I'll also post about my "Insanity workout" videos progress so far some time soon.