One of our friends/hubby's coworker invited us to a Red Egg and Ginger party held by he and his wife for their son. When my husband told me about the invitation I was excited because I love parties and other social events but I had no clue what type of event it was. Thanks to Google I was able to figure it out.
So from what I've gathered, this is a common celebration in Chinese culture. It is done 30 days after a child is born. It's basically celebrating the baby's one month birthday. Here's some more information from E-how online:
The Egg
-a symbol of fertility, renewal of life, unity and harmony in Chinese culture. They are dyed red as a symbol of good luck.
The Ginger
-adds a bit of hot spice to the yin and yang balance of traditional Chinese food. The infant's mother is thought to need this yang after the tiring process of giving birth.
The Name
-were very important in ancient Chinese culture. It was believed that a person's name may have an impact on future life events. Because choosing a name was so important, the infant's entire family helped to choose one as part of the red egg and ginger party.
The Gifts
-guests at a red egg and ginger party bring a gift for the baby. Traditionally, guests gift jade to symbolize luck, health and happiness or articles of clothing with tigers on them to watch over the child. Money can also be gifted in a red envelope; it's known as lucky money.
The Future
-the red egg and ginger party is often the only time a child's birthday is celebrated. Birthdays are usually celebrated only by the elderly.
Anyway, the party was held at a Chinese restaurant. I thought the couple would rent out a room in the restaurant so I was surprised when I saw that they reserved the entire restaurant. I was even more shocked when the place was jam-packed with people. We were so excited to be a part of such an important moment in their baby's life. The baby was dressed in a traditional Chinese outfit and he was so adorable.
Here I am with the red egg (see below). According to the baby's uncle the eggs are supposed to be dyed completely red but instead they came out with an interesting pattern. The uncle also told me that I had to eat the egg for good luck. Now I'm not superstitious but I wasn't chancing it so I ate the egg. lol. My husband ate his egg also. Interestingly, I found out that it was his first time eating a boiled egg. I actually didn't know that before. No matter how well you know someone there is always so much more to discover.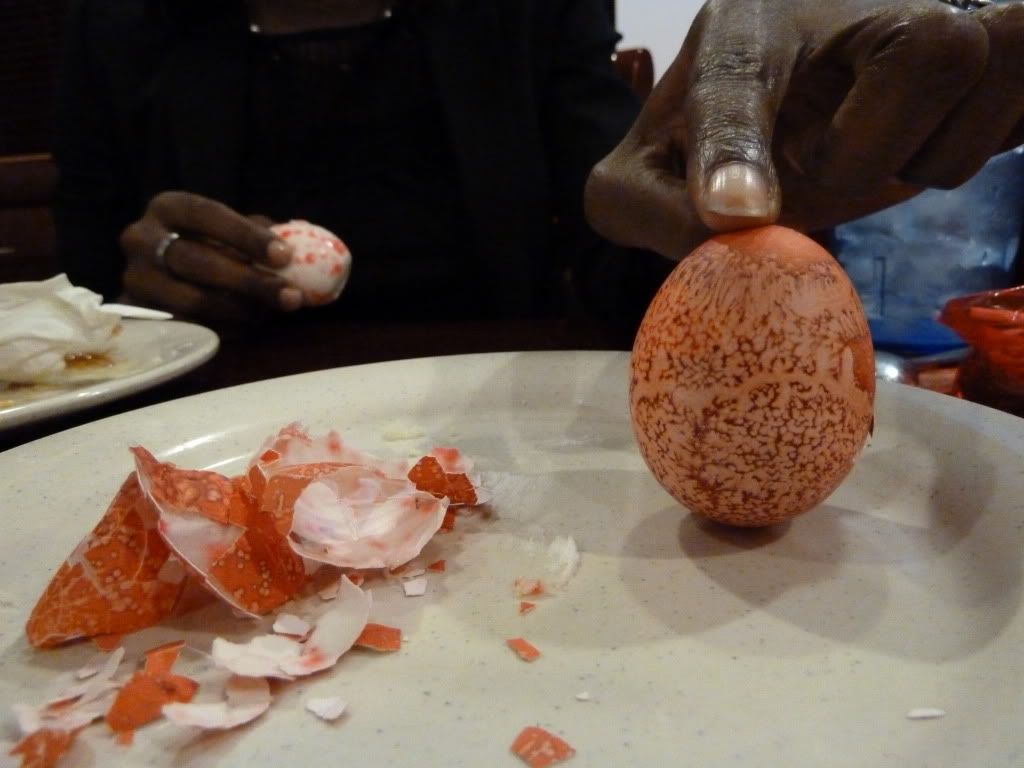 Me, holding up the egg after I found out that it wont stand up on it's own. Took me a while to figure that out. LOL
Here's the egg w/o the shell. I was a little scared to eat it because of the dye but apparently it was safe. Also I didn't want any fertility bad luck if I didn't eat it--Kidding.