The evening went mostly as planned:
-He opened his gifts before we went to dinner and he really liked what he got. He liked the flowers too and he agreed that it was sweet ;)
-I wore my black dress as planned. I urged him to wear whatever he wanted and he joked that he will wear "basketball shorts" if I didn't help him pick something out (since he did not know where we were going). Of course, I was happy to help but I would have been totally ok if he wore basketball shorts and a t-shirt. Anyway, he didn't and he looked so handsome!
Note: I had to do some cropping because of the way some of the photos turned out--hence 2 different pics.
-We ended up going to Ruth's Chris Steakhouse. I made reservations before so there was no wait. Of course he had the steak and I had the Spicy Asian Salmon. Yum!
-I did not blog or visited other people's blogs as promised. Well, I posted his birthday plans and wishes then signed off. That was tough. Being the wonderful guy that he is, at the end of the night my hubby went to my blog and read what I wrote about his birthday. He then proceeded to tell me that I had a few new comments. He told me it was ok for me to check them out, but I did not want to.
-I listened to his complaints without interjecting and I decided I needed to do that more often. I have a tendency to want to show people the other side of things when all they really want is someone to listen.
-We were full with appetizers, soups, main course and dessert from the restaurant so he turned down eating at his favorite ice cream place (Bops). I was shocked. He wanted to get ice cream from there for the longest. I guess he has to wait till Christmas--just joking. We will probably go some time next week.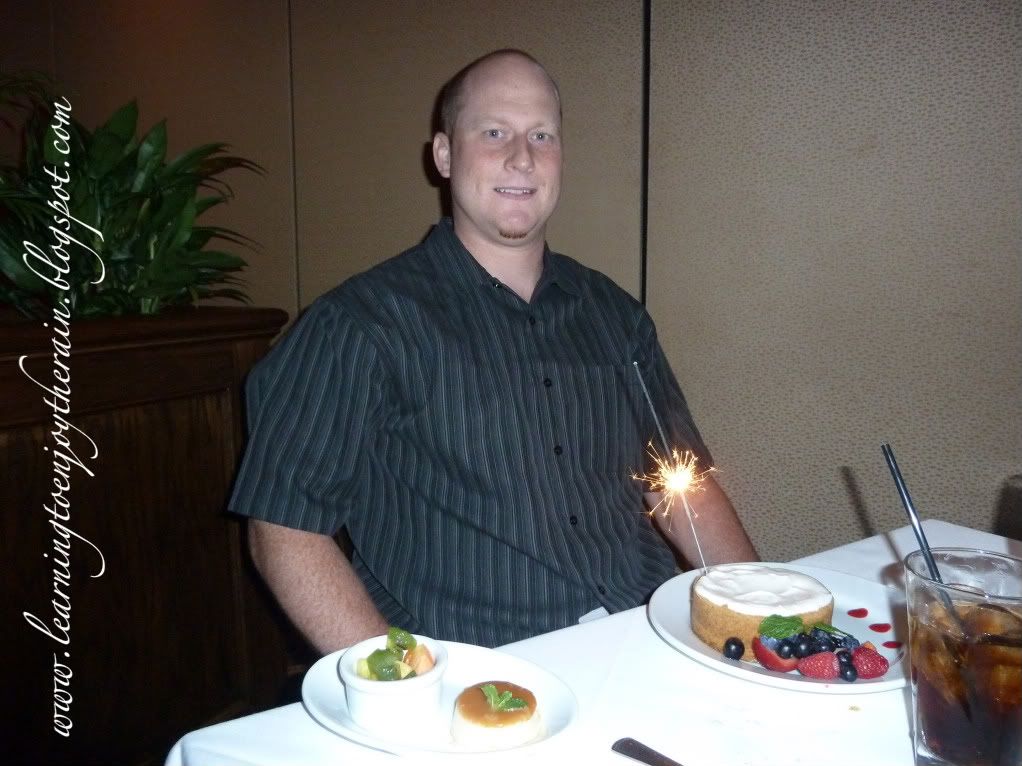 -The night literally did end in fireworks. As we were driving home we saw fireworks close to our home. Now, I must confess that I did not plan that, but we were able to watch them together. It was sweet.
Overall it was a great night.
Happy Real Birthday
today my honey (although you're working).
Check out my previous post to see what I planned the day before.